OCTOBER AT THE MOVIES
The best way to convey the feel and the tone of the new Brad Pitt crime film Killing Them Softly, is to give you an insight into Australian director Andrew Dominik's state of mind during the opening night of this extraordinarily well made film.
Dominik, who gave us the brilliant Chopper and The Assassination of Jessie James, announced that it was great to be back home after eight years of living in the US and what a truly beautiful city (Sydney) we live in. He told of his longing for Australia and its people and that the film we were about to see, was his interpretation of how he saw America.
Brad Pitt as a hitman in Killing Them Softly.  
All I can say after viewing the crime thriller Killing Them Softly is: I am not sure Dominik is a huge fan.
Based loosely on the novel Cogan's Trade, Killing Them Softly is a grimy, harsh, ugly look at America's dog eats dog culture and its rapidly decaying economy. Set in 2008 during the lead up to the presidential elections, it tells the simple tale of a sociopath hit man (a brilliant Brad Pitt) employed to chase down those responsible for a raid on a mafia run card game.
In this brutal world of dirty streets, derelict buildings and low life characters, there is little beauty. However, interwoven with the film's heavy atmosphere of poverty and desperation, is a wonderful dollop of black humour that together with a great ensemble cast of actors, serves to deliver the films much needed heart and entertainment.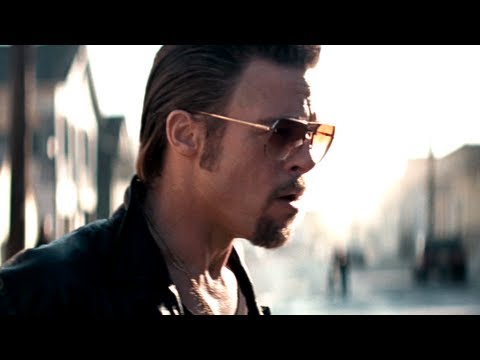 The Wedding Party
After enjoying success at countless overseas film festivals and voted most popular at the Melbourne International Film Festival a couple of years back, the new Australian feature The Wedding Party has finally made it to mainstream cinema.
I am not sure why it would have taken this long as this charming little film is a real delight.
It stars the wonderful Josh Lawson (pictured above, left) as Steve, a hopeless romantic who desperately loves his girlfriend, however as he is on the verge of financial ruin he agrees to marry a Russian stranger, Anna (a wonderful Isabel Lucas – above, right) This decision, which he must keep secret, creates nothing but problems for his already dysfunctional family.
This really sweet comedy with its universal story of love, family and the hardships in navigating tricky personal relationships is so easy to relate to. With its outstanding cast, should appeal to many. It is worth noting that the film as just secured a US release, so who knows, it may end up being the little engine who could.