MY TOP 10 AUSSIE POLITICAL CACKS!
Bloody hell, Australia, lighten up!
We used to have a sense of humour. We used to applaud a Prime Minister who held the Guinness Book of World Records for knocking back a yard glass of beer. We used to think it was funny that Kevin Rudd went to a strip club. We used to be a nation of larrikins and drongos and Paul Hogan wannabes.
Now we're more uptight than Bob Katter in a gay bar.
Craig Emerson sings out of tune and all of sudden we're donning our hair shirts and tut-tutting that our nation's affairs are not to be laughed at.
What? You want us to take politics seriously?
So, here's a warning: if you completely lack a sense of humour and think the dad in the movie Footloose was making a good point when he banned dancing, then don't read on.
If, on the other hand, you haven't yet forgotten that this country was built on the smart-arse's back, wrap your eyeballs around this:
CORINNE GRANT'S TOP 10 FUNNIEST AUSTRALIAN POLITICAL MOMENTS
10. John Howard watching soccer in his tracksuit
Nowadays our politicians save their workout gear for when they're working out, but there was once a sweeter, gentler time. A time when our politicians thought, "Bugger it, I want to invite the media around to film me watching the Socceroos and I see no reason to dress like an adult for the occasion. This rather effeminate tracksuit that's a little too tight for me will do just nicely, thank you."
What endears me most about this photo is that Johnnie looks exactly like my two-year-old  nephew when he's getting ready for the bath. Arms up, jumper off, it's bubbles time, little fella!
9. Bob Katter singing
I don't know why Craig Emerson is Public Enemy Number One all of a sudden, Bob Katter has been murdering our ears for eons. My favourite performance comes from this strategy session for his Australian Party candidates. Not content with simply belting it out, the Bobster throws in a little sotto voce towards the end, just to keep us on our toes. The judges on The Voice would be proud.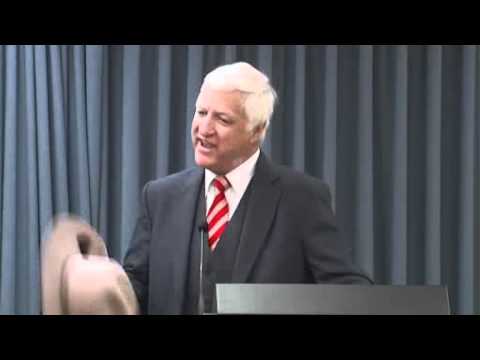 8. Rob Oakeshott sitting on a giant dunny
Look, we've all been asked to do something for a worthwhile cause, but that doesn't mean you forego asking the crucial question, "Are you sure it won't make me look silly?"  Because it did Rob, it really, really did.
7. John Howard bowling
I will admit this list is a little John Howard heavy, but hey, I can only work with the material at hand and Johnno gives good material.
No matter how many times he was asked, no matter how many times he stuffed it up, no matter how many times he looked like the world's biggest unco on the telly, he always said "Yes! Give me the ball! This time I'm going to get it to the other end of the pitch!"
That, my friends, is a true Aussie Battler.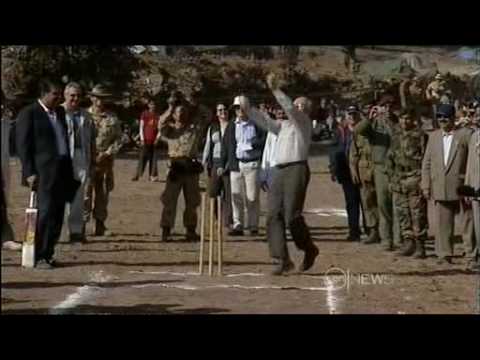 6. Senator Stephen Fielding wearing a beer bottle costume
For those days when you just can't find anything to wear to parliament, why not come dressed as a giant bottle of booze?
I get the feeling Stephen Fielding's mother never let him go to costume parties. From the grin on his face, I'm guessing this moment is fulfilling a childhood dream.